Shonda's Profile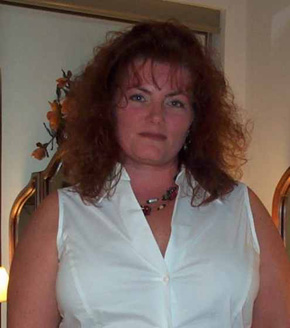 Name: Shonda Addington
Age: 35
Birthplace: Columbus, Ohio
Occupation: I currently work as a unit coordinator at a local hospital, as well as manage a friend's custom home building business.
Home: Gahanna, Ohio
Marital status: Divorced
How I became interested in ghost hunting: Quite honestly, I never imagined that I would someday be involved in paranormal investigations. I had no idea how the process worked and thought only the people formally educated in the subject and with the expensive high-tech equipment got to do it....but here I am!
My fascination with ghosts and other areas of the paranormal began as a child. I seldom missed the opportunity to watch a scary movie, documentary, or hear a spooky ghost story....but I was also always scared silly by all of it. While visiting certain family members and friends I had a couple of 'unexplained' events, but always doubted what I saw or felt. I became so unsure of what I believed, and if I could handle knowing, that I even vowed to never live anywhere near a cemetery, and now you can't keep me out of them!
Over the years, I continued to be intrigued by the paranormal and I guess I am on the eternal quest to prove that hauntings and ghosts are more than just our imagination. I believe, yet I am skeptic and I love the scientific aspect involved with true 'ghost hunting'. So, while planning a trip to Gettysburg with a friend a year ago, I searched the internet for a local group who would hopefully take us under their wing and show us how it was done. That group was the Gettysburg Spirit Watchers, which included Hillary and Paul. Everyone in the group was extremely helpful, patient, and they taught us a great deal that evening...I have been addicted ever since!
Since that time, Hillary and I have conducted several independent investigations together in Ohio, Illinois, and Pennsylvania. I am very excited by the start up of this new club and look forward to a lot of great ghost hunting in the future!

Other interests: Traveling, cooking, reading, golfing, boating and anything else fun and exciting!
Feel free to e-mail me at: Shonda@paranormalinvestigators.com